Patrick Bollinger graduated with a B.S. in civil engineering from the University of Florida. His journey was different from most students who were recognized at the Herbert Wertheim College of Engineering's Fall 2018 commencement ceremony.
Bollinger, originally from Maryland, left college more than two decades ago to work in his family's roofing business and then in solar project management. After a successful 20-year career, he wanted to pursue a lifelong dream to become an educator in civil engineering and construction coursework.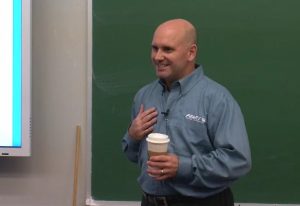 After moving to Gainesville in 2010 and leaving the workforce in 2013, Bollinger began his educational journey first at Santa Fe College.  In 2016 he came to UF and, after completing the courses, became a teaching assistant for Computer Methods, Civil Engineering Materials, and AutoCAD.  He also guest-lectured in Life Cycle Analysis classes and Intro to Civil Engineering.
While at UF, Bollinger was named a UF Outstanding Two-Year Scholar and was a recipient of the Thomas O. Hunter Leadership Scholarship.
"Through its rigorous curriculum and leadership opportunities, such as teaching and research assistantships, UF has done an amazing job preparing me as a leader in civil engineering," said Bollinger.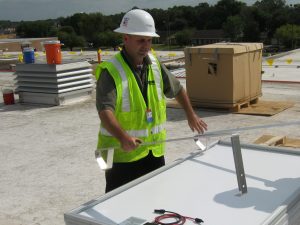 Bollinger continues to be energized by the cross-discipline research that combines his interests in geotechnical engineering, sustainable materials, and applications for use in construction.
After graduation, he will be pursuing a Ph.D. in civil engineering at Iowa State University, where he plans to "take his training and experiences as a Gator Engineer to the next level."
His goal is to research and cultivate new ways for improving soils to support tomorrow's highway infrastructures.
---
"Through its rigorous curriculum and leadership opportunities, such as teaching and research assistantships, UF has done an amazing job preparing me as a leader in civil engineering. I'm excited to take my training and experiences as a Gator Engineer to the next level."
– Patrick Bollinger
---