Honoring a graduate of our first class.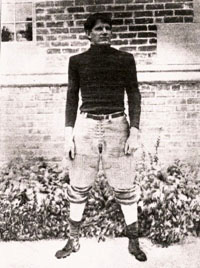 It is with great pride that we remember William Wetmore Gibbs (W.W. "Gric". Gibbs). He was born in Melbourne, Florida, on January 12, 1889. He entered the University of Florida (UF) in 1905 and graduated in 1909, receiving a Bachelor of Science degree in Civil Engineering. While attending UF, Gibbs proved to be an excellent student and leader. He was the captain of the Florida eleven football team and was called a "holy terror" on defense by his opponents.
After graduation, he helped plan and design a Jacksonville suburb called Ortega, which today, is considered to be an affluent community, rich in its own history. A few months later, he was employed by the Phosphate Mining Company, in Nichols located in Polk County, Florida where he rapidly advanced to Assistant General Manager, second in charge of the company.
He married Miss Lucia Patton on November 2, 1910, and to them four children were born, one during the year after his death.
Immediately on the entry of this country into World War I, he gave up his position, went to Washington, D.C. for training, volunteered for service in France, was commissioned as a First Lieutenant, and sent overseas. He was attached to the 6th Battalion 20th Engineers, Company B, United States Army. His service was short-lived, however, as he developed health issues and was honorably discharged after being sent back to the United States.  Service to his country did not end there. He became active in the educational campaigns for Liberty Bonds and Red Cross, speaking from his recent personal experiences in the military.
He went on to open his own successful consulting engineering office in Gainesville, Florida. While involved in a project in Green Cove Springs, Florida, he contracted influenza and died in early January 1919 in Jacksonville, FL.
Gibbs' activities and honors included being a charter member of the Florida Engineering Society (referenced in his letter on the left); a member of the Alpha Tau Omega fraternity and the Phi Kappa Phi Honor fraternity; elected a junior member of the American Society of Civil Engineers on October 7, 1914 and then an Associate member on May 15, 1917.
W.W. Gibbs' story is one of inspiration for those who followed him. His drive to excel, his motivation to succeed and desire to help others is the epitome of what the current UF Civil and Coastal Engineering Department represents. We applaud William Wetmore Gibbs as one of our first graduates as well as those who have followed.
Gallery