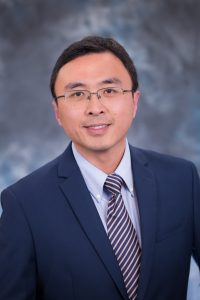 Two civil engineering associate professors, Eric Jing Du, Ph.D., and David O. Prevatt, Ph.D., were recently recognized by the American Society of Civil Engineers as 2018 Outstanding Reviewers.
Drs. Du and Prevatt serve as reviewers for peer-reviewed manuscripts submitted, respectively to the Journal of Construction Engineering and Management and the Natural Hazards Review. This honor recognizes their contributions to each journal.
"It is my honor to be recognized by the editorial board," Dr. Du said. "This is a recognition of my dedicated service and contribution to the construction engineering research community."
The Journal of Construction Engineering and Management publishes research, theories and best practices in that field of engineering and management.
"I'm humbled that the Natural Hazards Review recognized me for what I perceive is my obligation and contribution to the research community in advancing knowledge. The NHR publishes on many disciplines related to natural hazards damage mitigation. It encompasses physical, behavioral and social sciences to evaluate natural hazards loss and create long-term disaster resiliency," Dr. Prevatt added. "It is important to be recognized in this way by a peer-reviewed journal like the Natural Hazards Review, which is aligned with my research passions and which has a broad multi-disciplinary audience focused on reducing damaging effects of hurricanes and tornadoes in our communities."
Drs. Du and Prevatt both received a 2018 Certificate of Recognition and each recipient is listed on the designated journal's landing page in the ASCE library. To view the ASCE Library and journal listings, visit https://ascelibrary.org/journals.