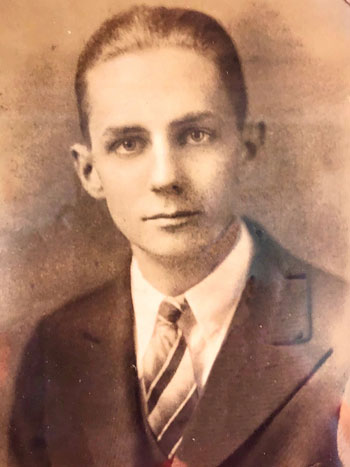 Bryant Marshall (BSCE '71) followed in his father's footsteps. Literally.
As a boy, Bryant tromped after his dad, Addison Marshall (BS '27), through fields and ditches as the lauded city engineer for Tallahassee built roads and infrastructure. Watching the heavy equipment dig deep for new sewer lines, young Bryant was always amazed by what the ground under the surface looked like. Deep reds. Greyish or yellow browns. Swathes of pale sand or crumbling clay.
"That got me interested in my ultimate career path," Bryant said about his specialty of geotechnical engineering, which concerns soil and rock mechanics. "I always looked up to my dad and the miraculous things he was doing and building."
Addison Marshall stressed to his three sons that his engineering studies at the the University of Florida had made those great things possible, so when Bryant and brother A. Franklin (Frank) Marshall Jr. (BSCE '58, MSE '60), headed to college, they too became Gators, both graduating with bachelor's degrees in civil engineering and later master's degrees, Bryant's from the University of Texas at Austin.
Bryant's expertise initially took him around the world supporting oil companies as they laid the foundations for offshore drilling rigs.
"Then in 1981, I got homesick for Florida and moved to Orlando, where I lived until I retired in 2004," he said recently from his home in Panama City.
Bryant's decades in The City Beautiful saw him rise to become a senior engineer at S&ME, later acquired by Westinghouse. He then cofounded Geotechnical and Environmental Consultants, where he served as chief engineer. He also helped guide the development of the region's infrastructure as a member of the Orange County Road Construction Advisory Board.
In his late 30s, Bryant proudly began supporting his alma mater. After his father's death in 1984, Bryant, his mother, Eloise, and his two brothers, Frank and Dallas, established the Addison Franklin Marshall Scholarship in Civil Engineering, now one of the largest endowed scholarships at UF's Department of Civil and Coastal Engineering (CCE).
"My brothers and I wanted to recognize that my father is a 1927 graduate of the University of Florida and that he raised two other sons to follow in his footsteps," he said. "We're just forever grateful that he encouraged us to go to college after high school. Without him, we wouldn't be where we are today."
Supporting up to four deserving students annually, the Addison Marshall Scholarship now boasts more than 75 alumni who've gone on to build successful careers in Florida, throughout the United States and internationally.
In 2013, his family's philanthropy expanded to impact thousands of Gator engineers, thanks to Bryant's generous support of the UF General Civil Engineering Fund and the UF student chapter of the American Society of Civil Engineers (ASCE). The latter fosters professional skills through symposiums and hands-on experiences in design and construction, most notably through the competitive UF Concrete Canoe and Steel Bridge teams.
ASCE did not sponsor design competitions when Bryant belonged to the UF chapter 50 years ago, but he recognized a struggle in common with today's members: the need to raise funds. Unlike other universities' ASCE student chapters, the ASCE Gators do not receive departmental funding and must do all their own fundraising every year, relying on cash and material donations.
Imagine the expenses involved in transporting a full-size concrete canoe, metal bridge components and up to 20 team members across the country for competitions, and you can see why, 10 years ago, this big-hearted Gator was inspired to found the Bryant P. Marshall ASCE Student Endowment, funding his passion through charitable IRA rollover gifts and a planned bequest.
"I figured if the ASCE students didn't have to spend all their time fundraising, they could dedicate that time more constructively to honing their skills and winning competitions," he explained.
And, boy, has that support boosted the ASCE Gators. Students appreciate that Bryant and the Marshall family have their backs, and they've thanked their benefactors with a string of regional and national wins (the latter garnering them scholarship money and attention from potential future employers).
"With the accomplishments of the UF Steel Bridge and UF Concrete Canoe teams combined, we have had seven national titles since 2015," said Dr. Robert Thieke, CCE department head. "No other civil engineering program in the country can touch that."
"Quite simply, the Marshall family's support has been absolutely invaluable," he stated.
Bryant says giving back feels right, like passing on a torch handed to him by his dad and UF engineering.
"It's always nice to be able to give back at the end of your career when so much was given to you by the university to facilitate your lifelong success," said Bryant. "It makes you feel good to know that you've helped the kids who are going to be following in your footsteps."
"I envy those kids," he added. "Going through the civil engineering program now, knowing that so much excitement and so many learning experiences are yet to come."
If you would like to donate to the Addison Marshall Scholarship in Civil Engineering Fund or the Bryant P. Marshall, P.E. ASCE Student Chapter Fund, please contact Nick Cole at (352) 294-7948 or at n.cole@eng.ufl.edu.
---
Story by Barbara Drake (MFA '04) | Originally published on the
UF Advancement
website.